Our Mango butter qualities
We carry Mango butter in the following qualities for you
| | Cosmetics | Food | Pharmaceutics |
| --- | --- | --- | --- |
| Mango butter refined | | | |
| Organic mango butter refined | | | |
Mango butter is often used as an alternative to shea butter.
INCI name: Mangifera Indica Seed Butter
CAS number: 90063-86-8
Botanical name: Mangifera indica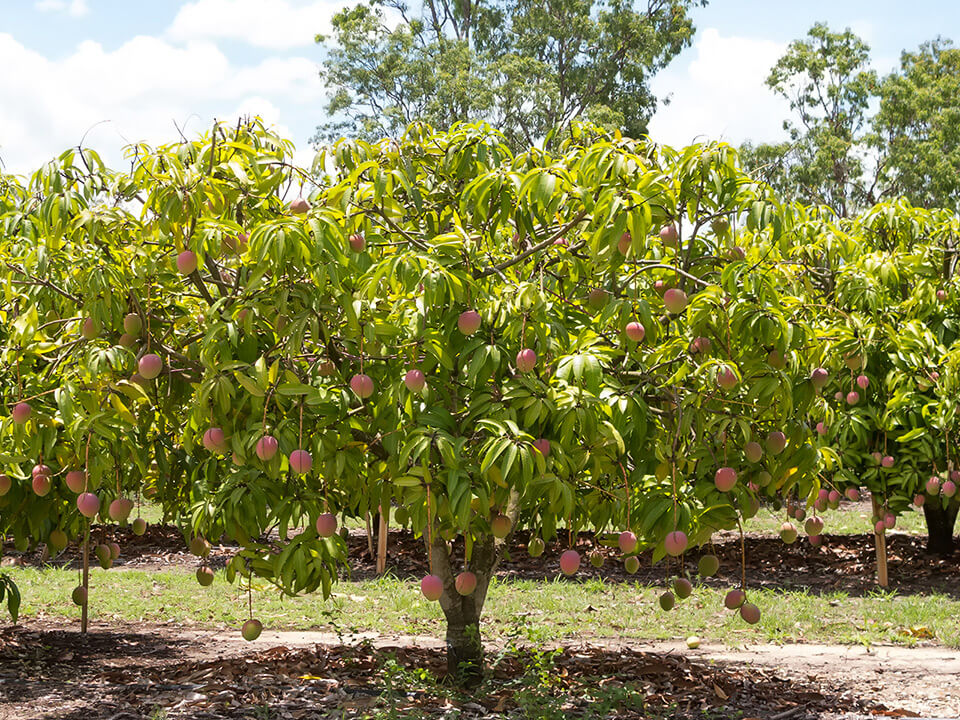 Mango tree & mango fruit
Mango butter is a vegetable fat which is extracted from the kernel of the mango. The mango tree belongs to the genus Mangos (Mangifera) within the family Sumach (Anacardiaceae).
The mango tree is a fast-growing and evergreen tree. In 6 years, it can grow up to 6 meters high, but overall it can reach growth heights of over 30 meters. The bark is initially light green, but in older trees a thick, grey-brown bark develops, which has longitudinal cracks and later falls off in rectangular scales. The root system of a 20-year-old mango tree can be up to 8 meters in diameter. The mango tree has a large, protruding and roundish crown of up to 30 meters in diameter. The dark green leaves are lancet-shaped, at least about 10 cm long in adult plants and covered with a thin layer of wax.
The main flowering period is between December and March. The flowers are relatively small and pale yellow to reddish. A large mango tree can bear up to 10,000 blossoms, yet only about 40 fruits are formed per tree. On average, only about 1% of the blossoms are fertilized. Between three and six months after flowering, the fruits are ripe. They weigh up to 2 kilograms, are oblong to oval and hang on long stems. The yellow-orange flesh is fibrous to soft, the skin red, green or yellow. They contain a large, fat-rich seed, with about 9 to 13% fatty oil, from which the mango butter is pressed. Mango butter has many names and is also known as mango kernel oil or mango kernel fat.
There are 2 types of mango trees; the Indian and the Philippine. The Indian type produces yellow-reddish fruits, while those of the Philippine type remain green even when ripe. Both species are not limited to the areas of origin. There are over 2,500 different mango varieties that differ in shape, size and taste. In India there are more than 1,000 different varieties. Mangos are often cultivated; they provide fruit as well as oil and are used as a medicinal plant.
Except for sandy soils, the mango tree is relatively undemanding. It is quite durable and can bear fruit for more than 300 years.
Cultivation & yield
Today, the mango is a cultivated plant that is at home in many parts of the world. Among other places, it is cultivated in Central South America, the Caribbean, the tropical belt of Africa and in large parts of Asia. By far the largest producer of mango is India, followed by China, Thailand Indonesia, Mexico and Brazil.
In 2017, 50.6 million tons of mangos were harvested worldwide.
Originally the mango tree comes from India and the tropical rainforest.
Already in the Hindu Vedas, which were written around 1,200 BC, the mango is mentioned as "food of the gods". Even today it is still offered to the gods as a sign of wealth and divine sweetness. The fruit arrived in Europe with the Portuguese Indians of the 16th century.
20 kg
Bucket
---
General durability: 12 months
Nutritional values & composition
| | |
| --- | --- |
| Nutritional value | (per 100 g) |
| Energy | 3700 kJ / 900 kcal |
| Fat | 100 g |
| Saturated fatty acids | 53 g |
| Monounsaturated fatty acids | 43 g |
| Polyunsaturated fatty acids | 4 g |
Composition
| | |
| --- | --- |
| C16:0 Palmitic acid | 2 – 18 % |
| C18:0 Stearic acid | 35 – 47 % |
| C18:1 Oleic acid | 34 – 48 % |
You want to buy Mango butter?
Ask Gustav Heess now free of charge and without obligation. We deliver Mango butter ...