Our Castor oil qualities
We carry Castor oil in the following qualities for you
With many oils, the 1st pressing is the particularly high-quality oil. With castor oil it is exactly the opposite. The 1st pressing is a low-quality technical oil and does not meet the requirements for cosmetics and the European Pharmacopoeia (Ph. Eur.).
After the seeds have been pressed without heat input (this is the castor oil native), the press cake still contains approx. 35 % oil. This is now pressed again under heat supply. This renewed pressing is called 1st pressing castor oil.
Cold-pressed castor oil is a pale yellowish, indigestible, viscous, non-drying liquid with a faint characteristic odor. On the other hand, the 1st pressing castor oil obtained by hot pressing has a distinct yellowish-brown color and a strong odor.
| | Cosmetics | Food | Pharmaceutics |
| --- | --- | --- | --- |
| Castor oil virgin Ph. Eur. | | | |
| Castor oil refined Ph. Eur. | | | |
| Castor oil refined low moisture Ph. Eur. | | | |
| Castor oil virgin low acid value Ph. Eur. | | | |
| Organic castor oil cold pressed | | | |
As castor oil has a largely independent, constant viscosity and strong adhesive power, it is used as a lubricating oil for aircraft, ships, jet engines, hydraulic pumps, brake fluid and as a plasticizer in the plastics industry. Another important field of application is its use as a raw material for the production of paints and varnishes, in the rubber, textile, leather, plastics (polyamide 11) and cleaning agent industries.
INCI name: Ricinus Communis Seed Oil
CAS number: 8001-79-4
Botanical name: Ricinus communis L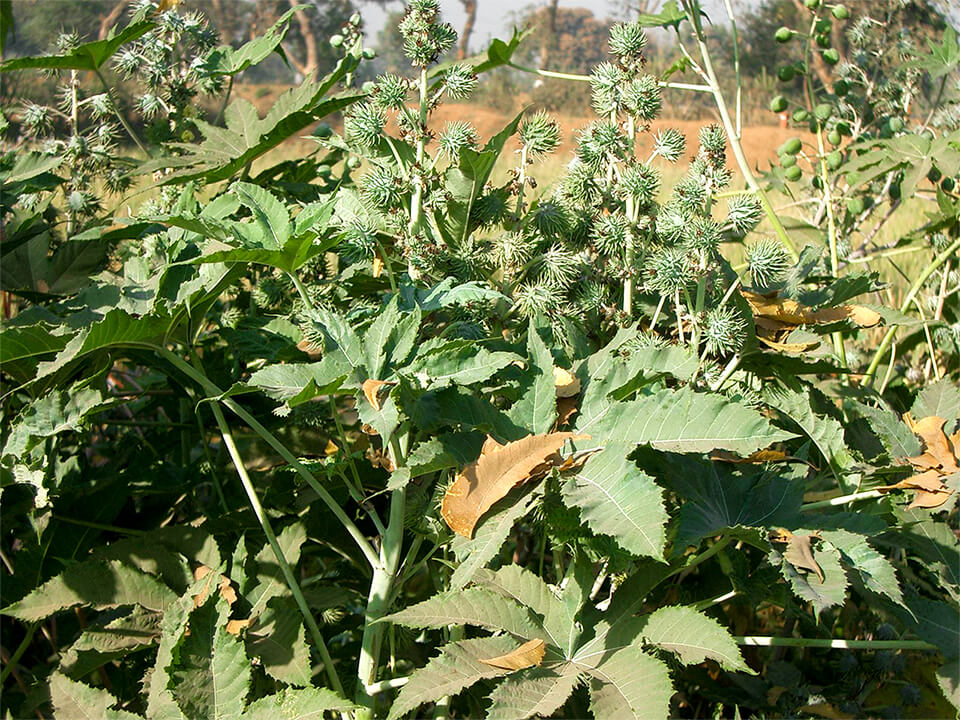 Castor oil plant & castor oil seed
Castor oil is produced from the shelled seeds of the castor oil plant, which is also known as the miracle tree (Latin Ricinus communis L.) or Ricinus communis. Castor oil plant belongs to the spurge family (Euphorbiaceae) of the genus Ricinus. The castor oil plant is not actually a tree, but an annual to perennial herbaceous shrub. Every year in autumn it dies down to its roots. In the following year, it sprouts again from these roots under appropriate sunlight.
In the temperate climate zones, it grows as an annual herbaceous plant, in the tropics as a perennial. Castor oil plant is a fast-growing plant and under ideal conditions it can grow to a height of up to 6 meters in just three to four months, which is why the plant is also known as a miracle tree. Perennial plants can grow to a height of up to 10 meters and have a life span of approx. 4 years. The hand-shaped leaves of the wonder tree are between 30 and 70 cm long and dark green or reddish in colour.
The flowering time of the miracle tree is between August and October. The inconspicuous inflorescences are fispy and 30 to 40 cm long. The female red flowers are on top, the male white to light yellow flowers are in the lower part.
The flowers form brown, walnut-sized fruits which can be harvested in autumn. These contain 7 to 14 mm long and 6-8 mm wide, bean-shaped, shiny seeds. The seed coat is thin, hard, brittle and easy to remove. The average weight of a thousand grains is about 200-450 grams.
Since castor seeds contain ricin, our gentle cold pressing process ensures that our castor oil is free of toxic substances.
Depending on the variety, the soil conditions and the climate, between 450 kg and 2,000 kg of oil can be obtained per hectare. The seeds contain 40-55 % oil.
Cultivation & yield
The miracle tree is cultivated worldwide. More than 80 percent of the world market production comes from India, Brazil and China, where the plant flourishes.
In autumn, when the plant is fully ripe, it is harvested. Harvesting is done mechanically for large areas and manually only for small areas. During this process the capsules are cracked and dried. After drying, the seeds are peeled, and the valuable castor oil is obtained by pressing. Worldwide, approx. 600,000 tons of castor oil are consumed annually, of which approx. 38,000 tons are consumed in Germany. The consumption of castor oil represents about 0.4% of the total vegetable oil consumption.
Seeds of the plant were found in Egyptian graves dating back to 4000 BC, but it is not clear whether castor oil plant originally came from India or Africa. The fast-growing miracle tree was already mentioned in the Bible. In the Book of Jonah of the Old Testament, it says that God made a castor plant grow overnight. The next morning "God sent a worm to gnaw the castor plant so that it withered.
Even in ancient Egypt and the Orient, this ancient crop plant was cultivated for its oily seeds and was used not only for cosmetics but also for wound treatment and technical purposes. Both ancient Egyptian texts and the Bible itself tell of the healing power and effectiveness of the castor oil plant.
At the end of the 18th century it was discovered that castor oil plant can be used as a laxative.
In the 1960s, castor oil plant production in the USA was heavily subsidized in order to make it less dependent on raw material imports. Since 1990, however, cultivation in the USA has no longer had any economic significance.
25,000 kg
Tank truck
900 kg
IBC
200 kg
Drum
27 kg
Canister
---
General durability: IBC 12 months, drum 24 months, canister 6 months
| | |
| --- | --- |
| C18:1 Oleic acid | 2,5 – 6 % |
| C18:2 Linoleic acid | 2,5 – 7 % |
| C18:1 Ricinoleic acid | 85 – 92 % |
You want to buy Castor oil?
Ask Gustav Heess now free of charge and without obligation. We deliver Castor oil ...