Our Borage oil qualities
We carry Borage oil in the following qualities for you
| | Cosmetics | Food | Pharmaceutics |
| --- | --- | --- | --- |
| Borage oil cold pressed | | | |
| Borage oil pressed and refined min. 20% GLA | | | |
| Organic borage oil cold pressed | | | |
INCI name: Borago Officinalis Seed Oil
CAS number: 225234-12-8
Botanical name: Borago officinalis L.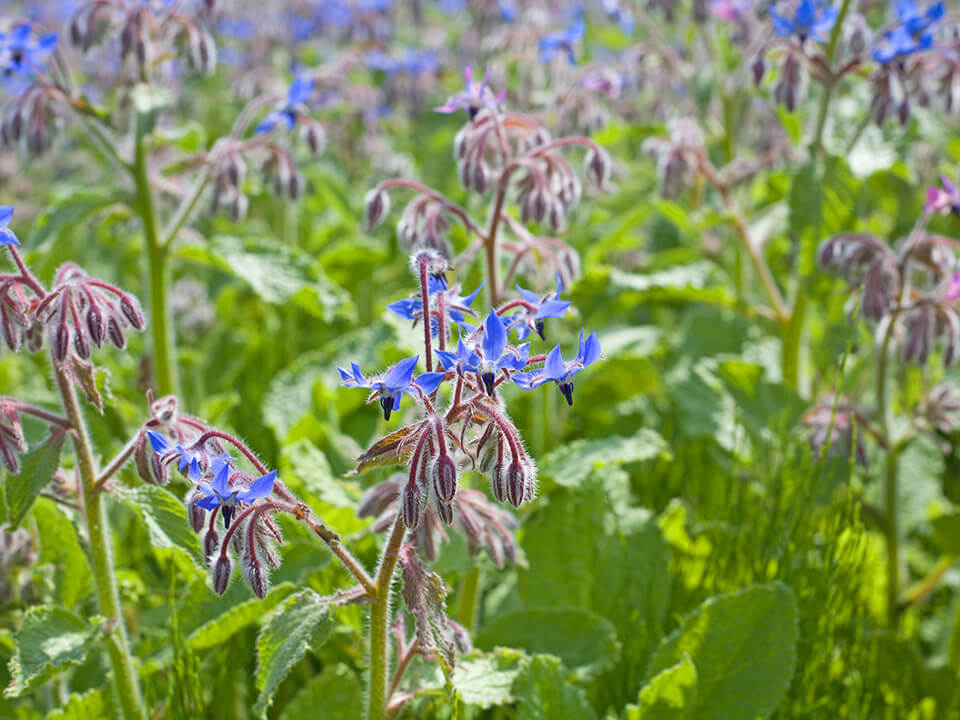 Borage plant & borage seeds
Borage oil is produced from the seeds of the borage plant (lat. Borago officinalis), which belongs to the family of the boraginaceous plants. The plant is also popularly known as cucumber herb, as borage has a distinct taste of fresh green cucumber. Other names for borage are blue-sky star, heart joy, little love eyes, eye ornament, barasia, and pleasure flower.
The borage plant is an annual herbaceous plant between 30 and 90 cm high. The leaves are hairy to rough, green and oval. The plant develops its star-shaped flowers between May and September. These are initially pink, but then usually change colour to a bright blue. After the flowers have been pollinated, small fruits are formed. These consist of several black seeds up to 6 mm in size. The valuable borage oil is extracted from these seeds.
Cultivation & yield
Outside Germany, borage is native to Western, Central and Eastern Europe, but also to Southwest Asia and North America. However, the main cultivation areas are the Netherlands, France, Spain and Latin America.
Today, borage is widespread and grows on fallow land, especially in the Mediterranean region.
The original origin of the borage plant is the Mediterranean region. The herb was already used by the ancient Romans and Greeks. It was found in farm and monastery gardens in Europe in the late Middle Ages. At that time, it was an important part of the garden and a popular natural remedy.
Borage has been used for a long time as a natural remedy (a mucolytic agent for people with coughs, or as a blood purification agent), but it also contains pyrrolizidine alkaloids associated with hepatotoxic and carcinogenic undesirable effects (the Celts intoxicated themselves with borage-flavoured wine before going into battle).
190 kg
Drum
27 kg
Canister
---
General durability: drum 18 months, canister 6 months
Nutritional values & composition
| | |
| --- | --- |
| Nutritional value | (per 100 g) |
| Energy | 3700 kJ / 900 kcal |
| Fat | 100 g |
| Saturated fatty acids | 16 g |
| Monounsaturated fatty acids | 28 g |
| Polyunsaturated fatty acids | 56 g |
Composition
| | |
| --- | --- |
| C18:1 Oleic acid | 14 – 20 % |
| C18:2 Linoleic acid | 34 – 45 % |
| C18:3 Gamma-linolenic acid | 20 – 25 % |
You want to buy Borage oil?
Ask Gustav Heess now free of charge and without obligation. We deliver Borage oil ...