Our Avocado oil qualities
We carry Avocado oil in the following qualities for you
| | Cosmetics | Food | Pharmaceutics |
| --- | --- | --- | --- |
| Avocado oil cold pressed | | | |
| Avocado oil refined | | | |
| Organic avocado oil refined | | | |
| Organic avocado oil crude | | | |
INCI name: Persea Gratissima Oil
CAS number: 8024-32-6
Botanical name: Persea americana Miller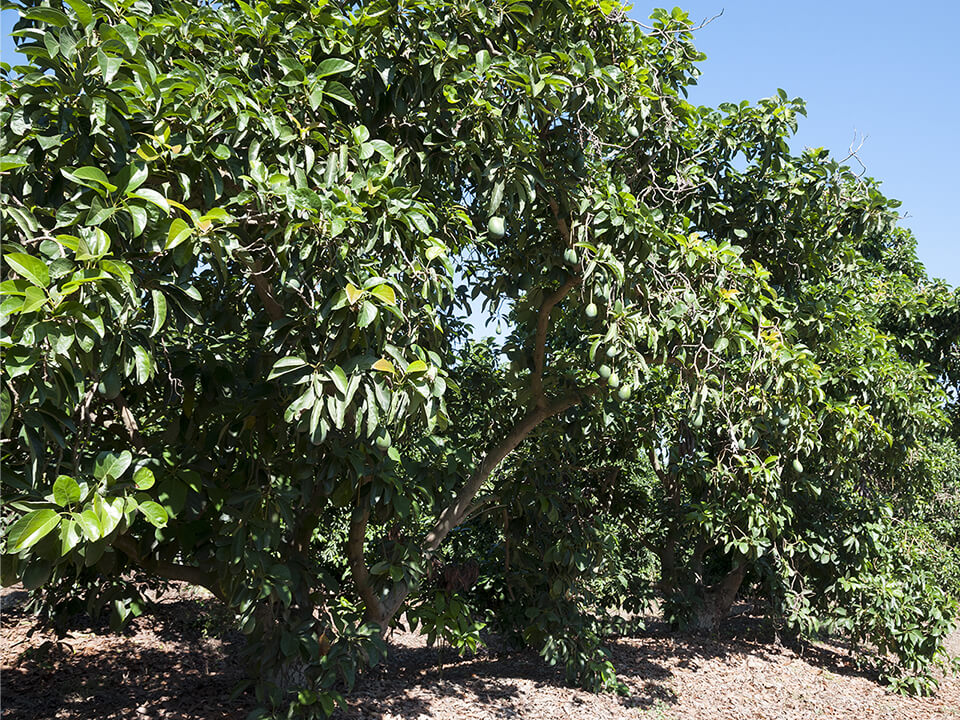 Avocado tree & avocado fruit
The Avocado belongs to the plant family Lauraceae (laurel plants) and is a berry fruit, not a stone fruit. The 6 to 7 meter high avocado tree grows in many subtropical countries and prefers a warm climate, needs plenty of water and plenty of light. The tree is evergreen and does not shed its up to 45 cm long, dark green, pointed, spirally arranged leaves in winter.
Only after 4 years the avocado tree bears fruit. After about eight months it produces ripe fruit from its fine flowers. These are pear-shaped to round, the colour varies from green to dark red, purple to black. Depending on the variety, the skin is smooth or ribbed and they have different strengths. The weight of the up to 12 cm long fruits is between 140 g and 900 g depending on the variety. The golfball-sized kernel makes up about 13-18% of the whole avocado fruit. It encloses the small embryo. The colour of the fruit flesh ranges from green-yellow to golden yellow, has a nutty taste and is very soft. As soon as it is exposed to the air, the colour changes to a dark brown. Both the flesh and the seeds contain up to 30% fat. There are 400 different varieties of avocado in total. The most common varieties are the Fuerte avocado and the Hass avocado.
Cultivation & yield
Avocados do not ripen on the tree, but only after picking when they have reached a marketable size. Furthermore, not all fruits of a tree ripen at the same time. Therefore, the correct harvest time must be determined by the colour of the fruit or by measuring the fat content.
The current main growing areas are Mexico, USA, Dominican Republic, South Africa and Indonesia. Other growing areas are the tropical regions, as well as South America, California, Brazil, Australia and New Zealand. Since the beginning of the 20th century the avocado has also been cultivated in the Mediterranean region, especially in Spain. In 2016, the worldwide harvest was 5.6 million tons of avocados.
The avocado tree originally comes from the warm and humid tropical rainforest of Mexico and Central America. The fruit has also been cultivated there for over 10,000 years.
25,000 kg
Tank truck
900 kg
IBC
191 kg
Drum
27 kg
Canister
---
General durability: IBC & canister 6 months, drum 18 months
Nutritional values & composition
| | |
| --- | --- |
| Nutritional value | (per 100 g) |
| Energy | 3700 kJ / 900 kcal |
| Fat | 100 g |
| Saturated fatty acids | 18 g |
| Monounsaturated fatty acids | 71 g |
| Polyunsaturated fatty acids | 11 g |
Composition
| | |
| --- | --- |
| C16:0 Palmitic acid | 5 – 25 % |
| C16:1 Palmitoleic acid | 1 – 12 % |
| C18:1 Oleic acid | 50 – 74 % |
| C18:2 Linoleic acid | 6 – 20 % |
You want to buy Avocado oil?
Ask Gustav Heess now free of charge and without obligation. We deliver Avocado oil ...