Almond oil
refined Ph. Eur.
| | |
| --- | --- |
| Origin | Our refined almond oil is 100% from California. |
| Certificates | NATRUE, Kosher |
| Article number | 208031 |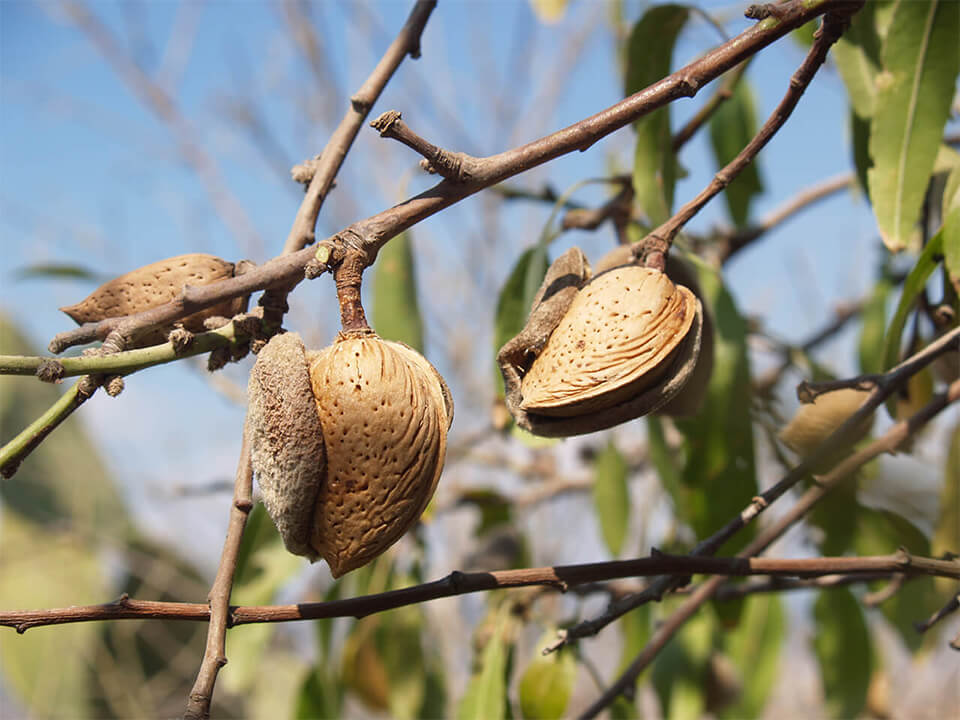 Refined almond oil is the fatty oil obtained from the ripe seeds of Prunus dulcis (Miller) D.A. Webb var. dulcis or Prunus dulcis (Miller) D.A. Webb var. amara (D.C.) Buchheim or a mixture of both varieties by cold expression. It is then refined.
Refined almond oil is a light yellow, low viscosity oil with a pleasant, slightly nutty almond taste and characteristic smell.
Almond oil refined Ph. Eur.
Gustav Heess
Our Caloy production unit in Modesto, California is the world's largest producer of almond oil. Through vertical integration all the way to cultivation, our highly qualified employees ensure consistent quality to meet the ever-increasing demands of the market. Our team of agricultural engineers is in daily contact with the farmers in order to select only the highest quality almonds when sourcing the raw materials. In 2016 our new oil mill with three expeller presses from SKET (made in Germany) was put into operation. The expeller presses were developed and built especially for us in Germany. The crude oil is obtained by gentle mechanical pressing. We work without additional pressing aids. Thus, we produce 100% high-quality almond oil with a gentle process.
After pressing, refining takes place in our own specialty refinery, which was newly built in 2013 and expanded in 2017. We neutralize the crude oil with our centrifuge before it is filtered with bleaching earth and activated carbon. The oil is then deodorized at low temperature and in a vacuum of about 1 mbar before it is finally cooled to a temperature of 8° Celsius and filtered again (winterized). Only nut oils are processed in our refinery. A mixing with other products is therefore excluded.
We refine at low temperatures, thus preserving all the important vitamins and naturally contained plant substances contained in the oil.
In addition to high product quality, delivery reliability is also a top priority. Therefore, we maintain large storage capacities in the USA and in various European countries. This enables us to ensure supply anywhere, anytime and just in time. We do not only promise security of supply – we can guarantee it.
Our 6-stage system ensures seamless quality control:
by our agricultural engineers in the fields
by our own Caloy laboratory on receipt of the almonds
after pressing to oil
in-process controls at each refining stage
final inspection of the oil after refining
before delivery to the customer by our officially DIN EN ISO/IEC 17025 accredited Gustav Heess laboratory in Germany
All production steps and analysis comply with the requirements of the Pharmacopoeia Europaea (Ph. Eur.).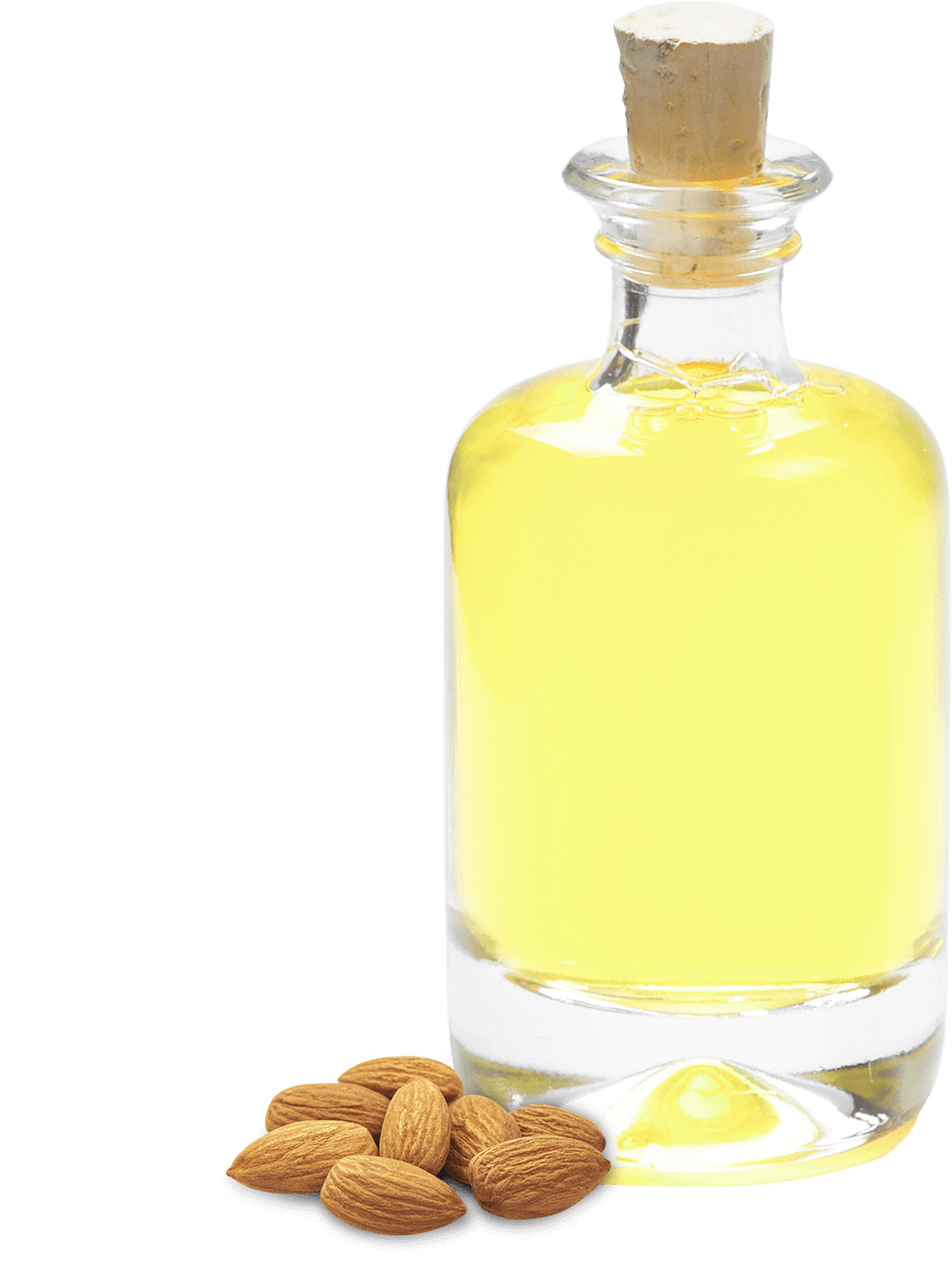 Cosmetics

Versatile base oil for all skin types
Penetrates well into the skin and greases the skin
Soothing for rough, scaly and dry skin
Very good massage oil
Use in baby care products, lip balms and hair care preparations

Food

High quality salad oil and for cooking, frying and deep-frying
Suitable for the preparation of desserts due to its almond flavour
Part of the Mediterranean diet due to the monounsaturated fatty acid distribution and therefore very healthy

Pharmaceutics

Use as ointment component as well as solvent and dispersion agent
Active ingredient carrier in oily eye drops
INCI name: Prunus Amygdalus Dulcis Oil
CAS number: 8007-69-0 / 90320-37-9
Botanical name: Prunus Dulcis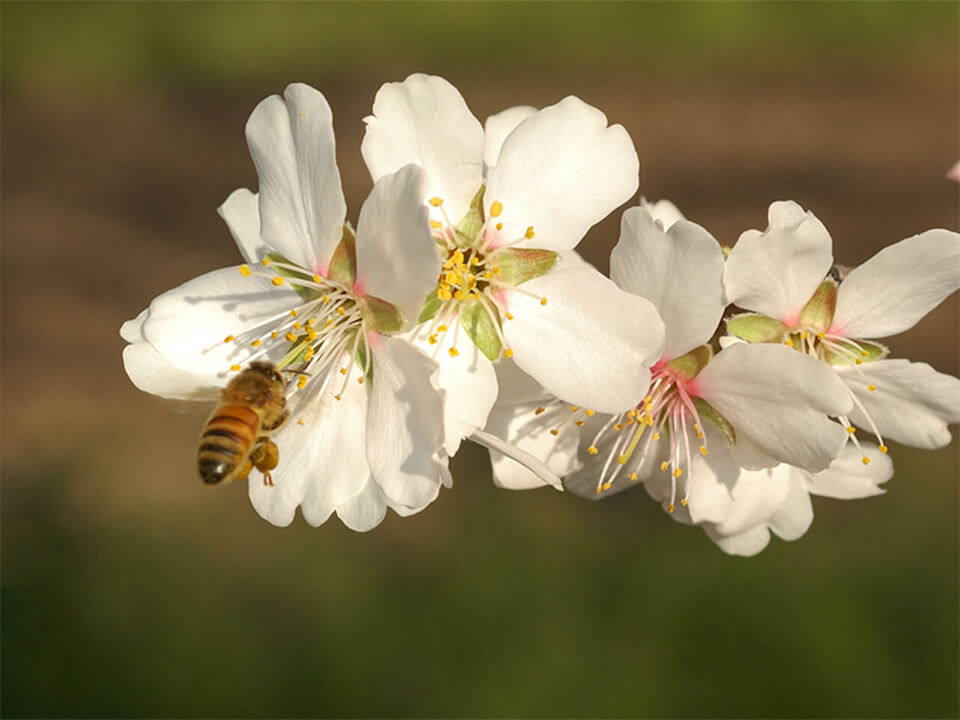 Sustainability & responsibility
In California, more than 90% of almond farms are family businesses, most of them are managed in the third or fourth generation. In addition, almost three quarters of almond farms are smaller than 40 hectares. With the Almond Sustainability Program (CASP) introduced in 2009, sustainability measures are implemented in the areas of water, air quality, energy and land (nutrient use, pest control and bee health). Water consumption is a particularly important issue in the cultivation of almonds. It was reduced by 33% per pound of almonds through the use of micro-irrigation systems, irrigation on demand rather than on time, and by optimizing irrigation through soil maps.
Waste is minimized by utilizing all by-products of almond cultivation. In addition to the almond kernel, the two by-products shell and skin are used as animal feed and as stable bedding.
Bees are the most important helpers on the almond farm, as they are needed for pollinating the almond blossoms. Through the program "Honey Bee Best Management Practices (BMPs)" the almond farmers actively support bees and as a measure, for example, 93% of the farmers offer the bees clean water to drink and cool down during the pollination period.
Our own production facility Caloy is strategically located in the middle of the growing area. This saves CO2 through short transport distances and guarantees a fresh quality of almonds.
25,000 kg
Tank truck
900 kg
IBC
190 kg
Drum
27 kg
Canister
---
General durability: IBC & canister 6 months, drum 18 months
Nutritional values & composition
| | |
| --- | --- |
| Nutritional value | (per 100 g) |
| Energy | 3700 kJ / 900 kcal |
| Fat | 100 g |
| Saturated fatty acids | 9 g |
| Monounsaturated fatty acids | 68 g |
| Polyunsaturated fatty acids | 23 g |
Composition
| | |
| --- | --- |
| C16:0 Palmitic acid | 4 – 9 % |
| C18:1 Oleic acid | 62 – 86 % |
| C18:2 Linoleic acid | 7 – 30 % |
You want to buy Almond oil?
Ask Gustav Heess now free of charge and without obligation. We deliver Almond oil ...
More Almond oil-qualities
Here you will find more information about Almond oil &