Our Walnut oil qualities
We carry Walnut oil in the following qualities for you
| | Cosmetics | Food | Pharmaceutics |
| --- | --- | --- | --- |
| Walnut oil refined | | | |
| Walnut oil cold pressed | | | |
| Walnut oil pressed toasted | | | |
| Organic walnut oil cold pressed | | | |
| Organic walnut oil pressed toasted | | | |
The brown walnuts are very popular (raw material for e.g. ice cream); equally, walnut oil is used in the food industry as a valuable edible oil (refining salads). In the pharmaceutical industry, walnut oil is used as a basis for healing ointments. In the cosmetic industry it is used in creams and hair shampoos. Further applications for walnut oil are the production of oil paints and the treatment of wooden furniture.
INCI name: Juglans Regia Seed Oil
CAS number: 84012-43-1 / 8024-09-7
Botanical name: Juglans regia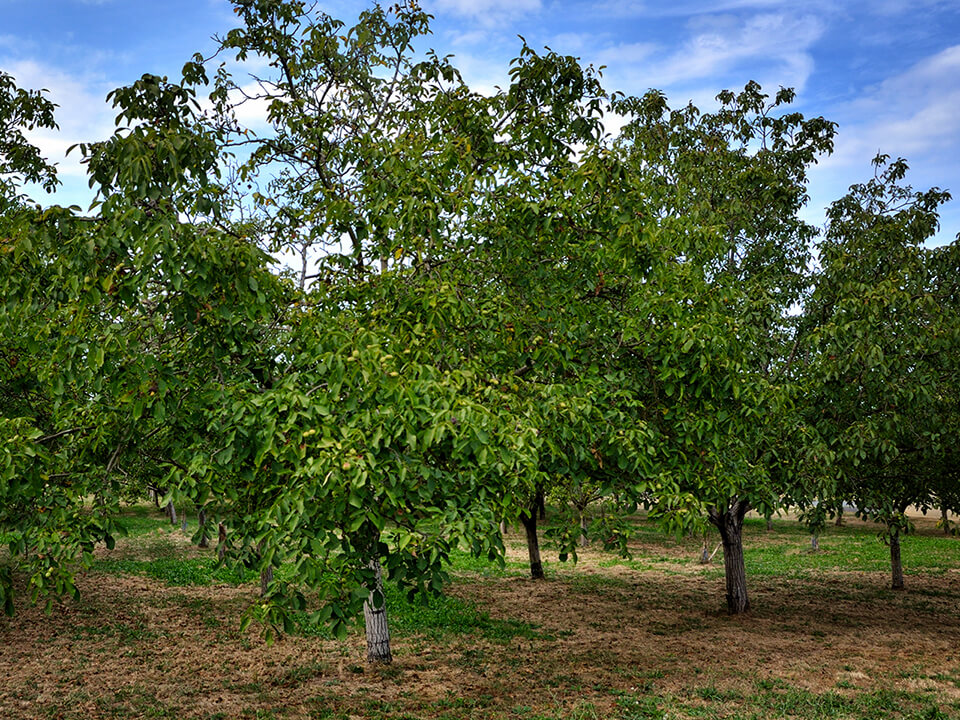 Walnut tree & walnut
The walnut tree, which belongs to the walnut family (Juglandaceae), is a deciduous, fast growing and spreading tree. It can reach growth heights of up to 30 meters, the trunk reaches a diameter of 2 meters. The bark is smooth and ash-grey in the first few years and develops into a deep fissured, dark to black-grey bark as it ages. The dark green leaves reach a length of 6 to 15 cm.
The greenish-yellow flowers can be seen on the tree between April and June. After the blooming period the 4 to 6 cm large, round, green fruits are formed. This fruit shell bursts open when the fruit reaches maturity, leaving behind the wrinkled, light brown core. This core can vary in shape and size. It consists of two fused halves and is heavily lignified. The shape ranges from round, oval, egg-shaped to beak-shaped and reaches lengths of 2.5 cm to 8 cm and a width of 2.5 cm. The nuts ripen between September and October. When they reach maturity, the nuts fall to the ground by themselves. The walnuts are then collected, dried and opened with special cracking machines.
The tree bears fruit only from an age of 10 to 20 years but reaches an age of up to 160 years.
The optimal location for a walnut tree offers plenty of light and heat, but also periods of cold, which the tree needs for the development of its sprouts. The soil should be loamy and fertile.
To produce one liter of walnut oil, about two to three kilograms of walnuts are needed.
Cultivation & yield
By far the largest supplier of walnuts is the USA (California). Followed by France, India and China. Breeding by Californian farmers has contributed significantly to the quality of today's walnuts. Already after the First World War, they bred special varieties that could also tolerate a colder climate. This pioneering work secured the area a big lead in the business of the high-quality nut, which no one has caught up with until today. Currently almost 65% of all walnuts worldwide and a total of over 200,000 tons per year are grown in California. The main harvesting season in California is between August and November, depending on variety and location.
Apart from the growing areas, the walnut tree is native to Southern and Central Europe, Asia Minor and Central Asia, North Africa, China and Japan. The tree is cultivated in Germany, its cultivation limit is roughly the same as the wine cultivation limit. In North America a variety, the black walnut (Juglans nigra L.), is cultivated. Because of their extreme hardness, these nuts can only be opened with special nutcrackers and are very popular in pastry shops and for ice cream. The European walnut tree is not only valued for its nuts, but also as a valuable furniture wood.
The walnut has been cultivated by humans as a crop for over 9,000 years. Originally it is native to Central Asia, then it reached Europe via Greece and with the emigrants also the American continent, California. There they found perfect conditions for cultivation. In 1867 the first walnut plantation was established in California.
Even in ancient Greece the walnut was valued and was considered the food of the gods. It was also used as a symbol of fertility. Thus, as soon as a bride entered the bridal chamber, nuts were distributed among the wedding guests so that Zeus would give the couple many children.
25,000 kg
Tank truck
900 kg
IBC
190 kg
Drum
27 kg
Canister
---
General durability: IBC & canister 6 months, drum 18 months
Nutritional values & composition
| | |
| --- | --- |
| Nutritional value | (per 100 g) |
| Energy | 3700 kJ / 900 kcal |
| Fat | 100 g |
| Saturated fatty acids | 10 g |
| Monounsaturated fatty acids | 15 g |
| Polyunsaturated fatty acids | 75 g |
Composition
| | |
| --- | --- |
| C18:1 Oleic acid | 14 – 21 % |
| C18:2 Linoleic acid | 54 – 65 % |
| C18:3 Linolenic acid | 9 – 15 % |
You want to buy Walnut oil?
Ask Gustav Heess now free of charge and without obligation. We deliver Walnut oil ...