Our Safflower oil high oleic qualities
We carry Safflower oil high oleic in the following qualities for you
| | Cosmetics | Food | Pharmaceutics |
| --- | --- | --- | --- |
| Safflower oil high oleic refined type II Ph. Eur. | | | |
INCI name: Carthamus Tinctorius Seed Oil
CAS number: 8001-23-8
Botanical name: Carthamus Tinctorius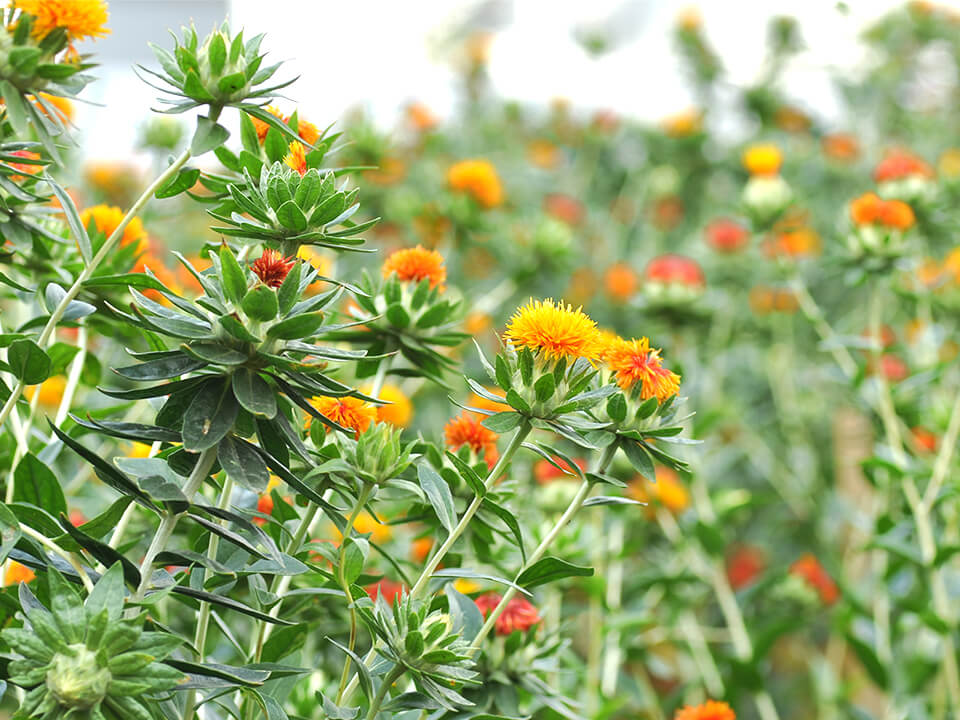 Safflower & safflower seed
Safflower, also known as false saffron is an ancient cultivated plant from Near and Middle Asia with a high utility value. It belongs to the Asteraceae family and is found all over the world.
he annual, herbaceous plant forms tap roots up to three meters deep, reaches a height of up to 130 centimeters and consists of branched stems. It bears 10-15 centimeter long, thorny, serrated leaves. The conspicuous flowers appear at the end of each branch in July/August. The tubular flowers reach a diameter of 3-5 centimeters and are bright yellow to orange. Because of its bright orange-yellow flowers, safflower has also become a popular garden plant. After cross-pollination the flowers develop three to six millimeter long, oily seeds which look like sunflower seeds. These seeds can be removed from the inflorescences from August to September. Depending on the variety, the number of seeds is between 1000-2500.
The undemanding safflower grows best in fertile and permeable soil and prefers temperatures of 24-32°C.
The life span of safflower is between one and two years.
Cultivation & yield
Today, safflower is mainly cultivated in India, Mexico, USA, Ethiopia, Australia and Spain. Other growing areas are Germany, Turkey and Hungary.
Safflower is harvested when the plant is fairly dry but not yet withered.
Originally safflower comes from Asia Minor and became known in Egypt as early as 3500 BC as a "dyer's plant". The scientist Georg Schweinfurth identified safflower in 1887 as a burial gift from Egyptian mummies. This shows their importance, as only the pharaoh had the right to plant safflower. At that time, linen clothes and textile fabrics were dyed with their juices. In antiquity the red dye was used for dyeing in the textile dye works. The corresponding dye is the so-called safflower red.
In the Middle Ages safflower also came to Europe. Until modern times, especially in Alsace, safflower was used for dyeing, until it was displaced by the discovery of aniline dyes.
25,000 kg
Tank truck
900 kg
IBC
190 kg
Drum
27 kg
Canister
---
General durability: IBC & canister 6 months, drum 18 months
Nutritional values & composition
| | |
| --- | --- |
| Nutritional value | (per 100 g) |
| Energy | 3700 kJ / 900 kcal |
| Fat | 100 g |
| Saturated fatty acids | 9 g |
| Monounsaturated fatty acids | 74 g |
| Polyunsaturated fatty acids | 17 g |
Composition
| | |
| --- | --- |
| C16:0 Palmitic acid | 3,6 – 6 % |
| C18:1 Oleic acid | 70 – 84 % |
| C18:2 Linoleic acid | 7 – 23 % |
You want to buy Safflower oil high oleic?
Ask Gustav Heess now free of charge and without obligation. We deliver Safflower oil high oleic ...