Our Rose hip kernel oil qualities
We carry Rose hip kernel oil in the following qualities for you
| | Cosmetics | Food | Pharmaceutics |
| --- | --- | --- | --- |
| Rose hip kernel oil cold pressed | | | |
| Rose hip kernel oil cold pressed refined | | | |
| Rose hip kernel oil refined stabilized | | | |
| Rose hip kernel oil refined organic | | | |
| Rose hip kernel oil cold pressed organic | | | |
INCI name: Rosa Canina Fruit Oil / Rosa Moschata Seed Oil
CAS number: 84696-47-9 / 84603-93-0
Botanical name: Rosa canina, Rosa rubignosa / Rosa moschata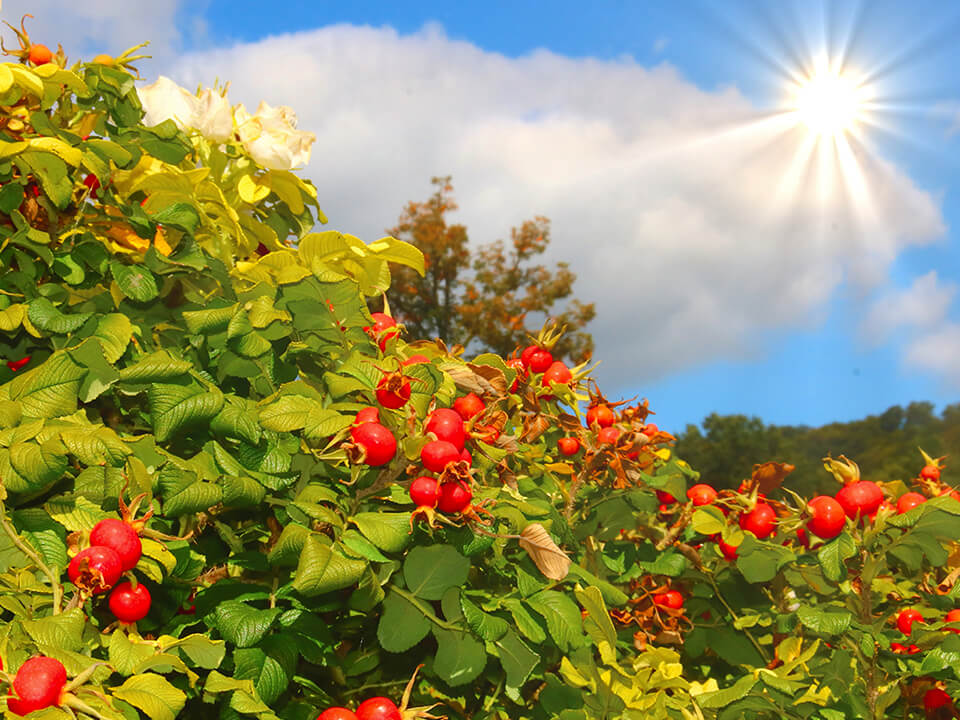 Rose hip bush & rose hip fruit
Rose hip oil, rose hip seed oil or wild rose oil is a vegetable oil which is obtained from the seeds of the non-toxic gleaning fruits of various rose species, especially the dog rose.
The wild fruit probably originates from the shrubs of the common dog rose (Rosa canina L) and the Kamchatka rose (Rosa rugosa L). Today, there are over 150 different wild rose varieties. However, the dog rose is the best known. The stems of the up to 4 m high rose hip bushes are covered with thorns and decorated with round to oval leaves. These are darker coloured on the upper side than on the underside. The flowery-scented, pink-coloured flowers can be seen from May onwards. Already in June the beautiful flowering period ends. This is when the ovaries (rose hips) are formed from the flowers. Since rose hips contain many small nuts, they are considered to be a collective fruit. The nuts should not be eaten or processed, as the fine, barbed hairs cause itching on contact with the skin. Many people remember the rose hip as an itching powder from childhood.
Ripening between September and October, the orange-red to red, round rosehip fruit tastes pleasantly fresh when eaten raw and, when cooked, produces a jam with a characteristic taste or a juice rich in vitamin C. Alternatively, rosehip wine or liqueur is made from the grated and fermented rosehips. The dried fruits are used to make the pleasantly sour tasting rose hip tea. However, the easily broken, lignified hairs sitting on the bottom of the flower must be removed beforehand, as they cause itching.
Cultivation & yield
Rosehips or wild roses prefer the mild climate and are cultivated mainly in Chile and China. They are also cultivated throughout Europe. Other growing areas are North Africa and South America.
The ripe rose hip fruits are picked by hand in dry weather between October and November. At this time the fruits are still in the early stages of full ripeness. The fruits are then already red, but not yet hard. For further processing they are cleaned, peeled and chopped.
Rosehip oil was already being used 2000 years ago, mainly by women of the Mayan, Egyptian and Indian communities, as well as by the Andean Indians of Chile. The oil is mainly used in medical and cosmetic preparations and is often called the "oil of youth". Medical preparations made from rose hips have been used in traditional Chinese medicine and by early Native Americans. During the Second World War, rosehips were used as a substitute for citrus fruits. During the wartime in Britain, rose hip seed oil was processed into a syrup to protect against digestive problems, diarrhoea, infections, stomach and menstrual cramps and nausea. In the 1980s, extensive scientific studies took place and proved the healing properties of rose hip oil (Rosehip) for sensitive skin and scars.
The exact origin of the rose hip is unknown, but its home is believed to be in Chile.
190 kg
Drum
27 kg
Canister
---
General durability: drum 18 months, tin 6 months
Nutritional values & composition
| | |
| --- | --- |
| Nutritional value | (per 100 g) |
| Energy | 3700 kJ / 900 kcal |
| Fat | 100 g |
| Saturated fatty acids | 6 g |
| Monounsaturated fatty acids | 15 g |
| Polyunsaturated fatty acids | 79 g |
Composition
| | |
| --- | --- |
| C18:1 Oleic acid | 13 – 18 % |
| C18:2 Linoleic acid | 35 – 50 % |
| C18:3 Linolenic acid | 22 – 38 % |
You want to buy Rose hip kernel oil?
Ask Gustav Heess now free of charge and without obligation. We deliver Rose hip kernel oil ...