Our MCT oil qualities
We carry MCT oil in the following qualities for you
| | Cosmetics | Food | Pharmaceutics |
| --- | --- | --- | --- |
| MCT oil type V Ph. Eur. | | | |
| MCT oil coconut based | | | |
| Organic MCT Oil coconut based | | | |
INCI name: Caprylic / Capric Triglyceride
CAS number: 73398-61-5 / 65381-09-1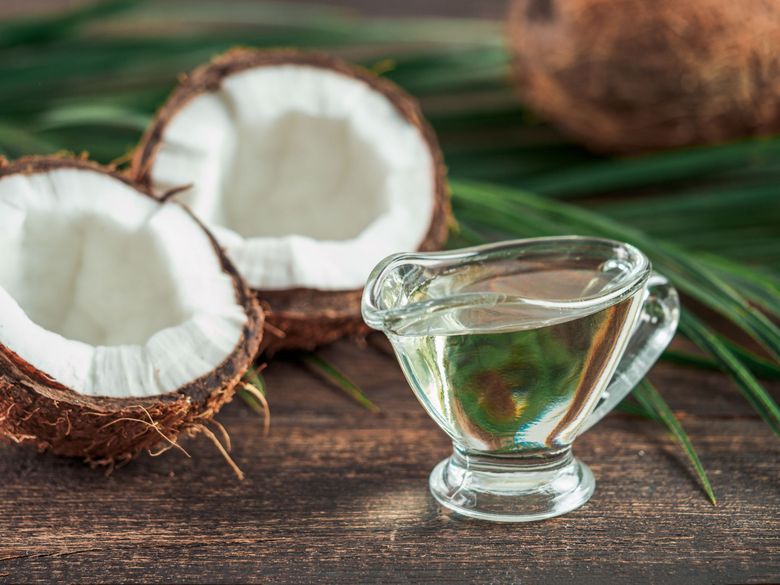 The MCT oil
MCT oil (medium chain triglycerides or medium chain fatty acids), also called neutral oil, is not a vegetable oil in the conventional sense. Oils consist of fatty acid molecules of different lengths. These can be used by the body to varying degrees. Basis of MCT oil is palm oil or coconut oil, from which the fatty acids are isolated and esterified with glycerine. MCT (medium chain triglycerides) are fats with medium chain fatty acids (6-10 carbon atoms), which cannot be stored in the body in the form of fat reserves. Medium chain triglycerides (medium chain triglycerides) caprylic acid (C8) and capric acid (C10), in contrast to long chain fatty acids (LCT = long chain triglycerides, > 10 carbon atoms), are quickly and completely absorbed by the human body without gallic acid and pancreatic enzymes and transported directly to the liver via the portal vein.
Origin
The MCT oils are produced from coconut or palm oil by the process of hydrolysis and esterification with glycerin. Despite the chemical processing of coconut or palm oil, the product is declared as natural vegetable oil.
There are four types of medium chain fatty acids:
the lauric acid (C 12:0)
the capric acid (C 10:0)
the caprylic acid (C 8:0)
the caproic acid (C 6:0)
In the brackets you will find information about how many carbon atoms and double bonds the individual compounds contain. For lauric acid, for example, this means that the compound has 12 carbon atoms but no double bond.
The MCT oil contains all four medium-chain fatty acids mentioned. The most effective components of the oil are thereby the caprylic acid and the capric acid. If both are in sum to at least 90 % component of the MCT oil, it can unfold its effects best.
MCT fats have been manufactured industrially since 1955 and are used in a wide variety of applications due to their special properties. MCT oil has been used in medicine, especially in food supplements, for many years. Instead of sugar, MCT oil is also used to increase the performance of the brain. The advantage is that the medium-chain fatty acids cannot be stored in the form of fat reserves.
25,000 kg
Tank truck
900 kg
IBC
190 kg
Drum
27 kg
Canister
---
General durability: canister 12 months, drum 18 months, IBC 6 months
Nutritional values & composition
| | |
| --- | --- |
| Nutritional value | (per 100 g) |
| Energy | 3700 kJ / 900 kcal |
| Fat | 100 g |
| Saturated fatty acids | 100 g |
Composition
| | |
| --- | --- |
| C6:0 Caproic acid | max. 2 % |
| C8:0 Caprylic acid | 50 – 80 % |
| C10:0 Capric acid | 20 – 50 % |
Ask Gustav Heess now free of charge and without obligation. We deliver MCT oil ...
We offer MCT oil in the following packaging units:

Tank truck
25,000 kg

IBC
900 kg

Drum
190 kg

Canister
27 kg