Our Macadamia nut oil qualities
We carry Macadamia nut oil in the following qualities for you
| | Cosmetics | Food | Pharmaceutics |
| --- | --- | --- | --- |
| Macadamia nut oil refined | | | |
| Macadamia nut oil cold pressed | | | |
| Macadamia nut oil refined organic | | | |
| Macadamia nut oil cold pressed organic | | | |
INCI name: Macadamia Integrifolia / Tetraphylla Seed Oil
CAS number: 438545-25-6, 159518-86-2
Botanical name: Macadamia ternifolia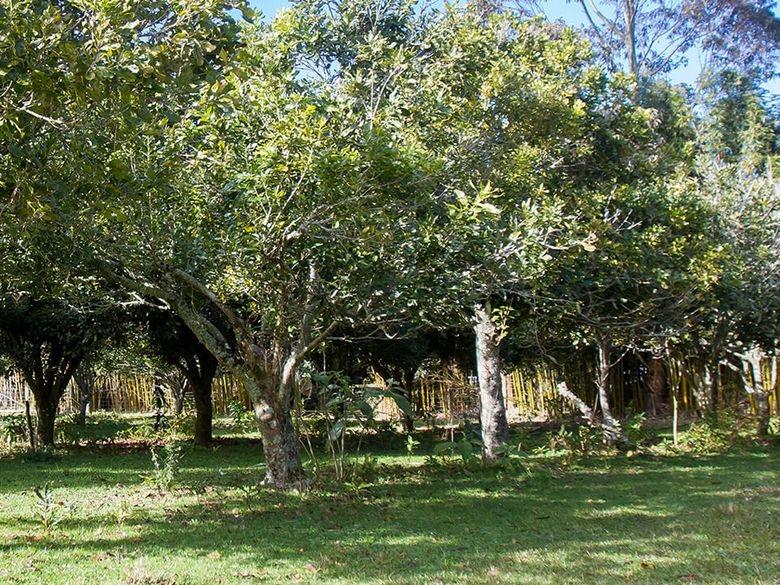 Macadamia tree & macadamia fruit
The 6 to 18-meter-high tropical macadamia tree belongs to the silver tree family. The dark green leaves of the evergreen macadamia tree are up to 25 cm long and 7 cm wide and are never shed. The macadamia fruits ripen for 7 to 9 months. The ripen macadamia fruit opens at a fine longitudinal seam. Then, the 2-5 cm wide, dark brown nuts, reminiscent of our chestnuts and difficult to crack, fall to the ground without any action. They are collected by hand or with special harvesting equipment. The nuts are then dried to reduce the moisture content from 30% to 1.5%. In the next step, the seed shell is cracked by machine so that the cream-coloured, buttery-soft, 1.3 to 2.5 cm large seed is revealed. Compared to the extraction of other nuts, this process is very complex.
The macadamia tree thrives best at an average temperature of 25°C and sufficient rain. The tree survives periodic dry periods without problems.
Only after 7 to 10 years a macadamia nut tree bears its first fruits and can yield up to 50 kg of nuts a year. A macadamia tree can live up to 50 years.
Would you like to be informed about the general market situation of Macadamia nut oil and our other products?
subscribe to market report
Cultivation & yield
The harvest in the northern hemisphere runs from September to December, in the southern hemisphere from March to June. Important growing areas for the macadamia nut are Australia, Kenya, South Africa, Brazil, Florida, California and China. As the nuts on the macadamia tree have different degrees of ripeness, the harvest is carried out in several cycles.
The macadamia nut, also known as the Queensland nut, comes, as the name suggests, originally from Australia. There it was known as the "Kindal Kindal", an important foodstuff of the Aborigines. The nut found its way to Europe thanks to the German botanist Baron Ferdinand Jakob Heinrich von Mueller. In 1858 he discovered the nut in Australia and named it after his friend Dr. John Macadam Macadamia. It took about 100 years until the first cultivated macadamia nuts were harvested. In the mid-60s the nuts became a successful export article. Today, the macadamia nut is the only Australian-derived food plant that is traded worldwide on a significant scale.
900 kg
IBC
191 kg
Drum
27 kg
Canister
---
General durability: canister 12 months, drum 18 months, IBC 6 months
Nutritional values & composition
| | |
| --- | --- |
| Nutritional value | (per 100 g) |
| Energy | 3700 kJ / 900 kcal |
| Fat | 100 g |
| Saturated fatty acids | 16 g |
| Monounsaturated fatty acids | 81 g |
| Polyunsaturated fatty acids | 3 g |
Composition
| | |
| --- | --- |
| C16:0 Palmitic acid | 7,0 – 9,0 % |
| C16:1 Palmitoleic acid | 15,0 – 24,0 % |
| C18:1 Oleic acid | 53,0 – 59,6 % |
| C20:0 Arachidic acid | 1,5 – 3,0 % |
| C20:1 Eicosenoic acid | 1,5 – 3,0 % |
You want to buy Macadamia nut oil?
Ask Gustav Heess now free of charge and without obligation. We deliver Macadamia nut oil ...
We offer Macadamia nut oil in the following packaging units:

IBC
900 kg

Drum
191 kg

Canister
27 kg