Our Hazelnut oil qualities
We carry Hazelnut oil in the following qualities for you
| | Cosmetics | Food | Pharmaceutics |
| --- | --- | --- | --- |
| Hazelnut oil refined | | | |
| Hazelnut oil cold pressed | | | |
| Organic hazelnut oil cold pressed | | | |
INCI name: Corylus Avellana Seed Oil
CAS number: 84012-21-5
Botanical name: Corylus avellana L.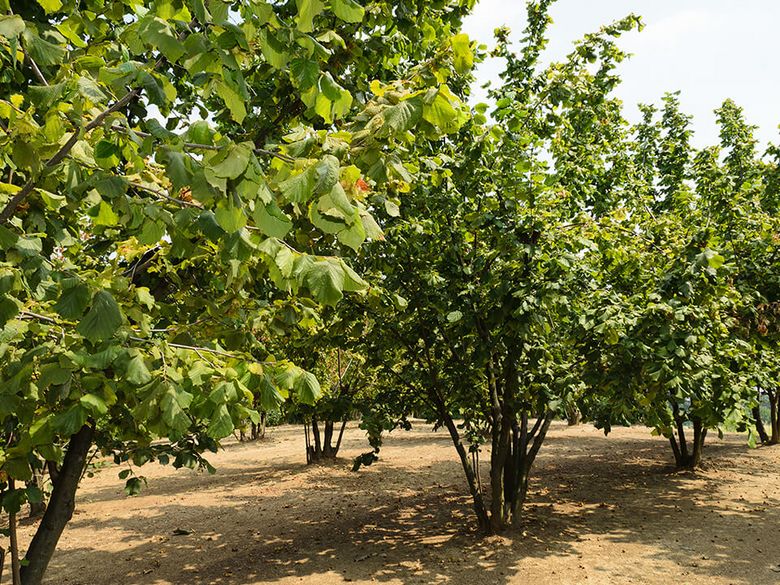 Hazelnut bush & hazelnut fruit
The hazelnut bush is a member of the birch family (Corylus avellana L.). It can reach a height of up to six meters and can live up to 100 years. Visually, the hazel bush is reminiscent of trees at the base of which shoots sprout. Particularly striking are the round leaves covered with a delicate fluff. Like most trees, the hazel bush also loses its colorful leaves in autumn. A special feature of the hazelnut shrub is its flowering time. The shrub does not flower in spring like most plants, but already in winter. Since a shrub bears both female and male flowers, no other shrub is necessary for fertilization. Hazelnuts are ripe in autumn and are popular with both humans and animals.
Hazelnut oil, which is yellow to yellow brown in color, has a clear, nutty smell and taste and is very rich in oleic acid. It is obtained by pressing the crushed hazelnuts (oil content 58-68%) and is usually refined afterwards. Most of the hazelnuts produced are either eaten raw or ground and used as a baking ingredient, chocolate additive, sweets (nougat and brittle) and ice cream. In contrast, the production of hazelnut oil is of secondary importance.
Would you like to be informed about the general market situation of Hazelnut oil and our other products?
subscribe to market report
Cultivation & yield
The main areas of cultivation of the hazelnut bush, which is cultivated in northern climates, are the USA (Oregon), Italy, Spain and Turkey.
By far the most hazelnuts are harvested in Turkey. This is followed by Italy, Azerbaijan, USA and China.
After planting a new hazelnut bush it takes about 4 years until the first harvest. The hazelnut shrub reaches its highest yield after about 10 years. In autumn the ripe hazelnuts are harvested, dried and peeled before pressing and then gently cold pressed.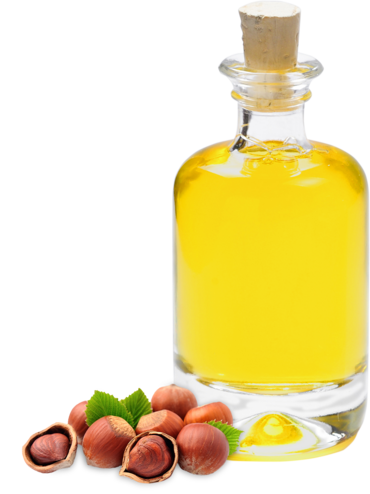 Hazelnuts were already part of the diet in ancient Rome and Greece and were used mainly in sweet dishes, bread and cakes. In the Middle Ages the delicious hazelnut became a remedy. People began to make hazelnut oil out of the hazelnut. The oil was not only used in food, but also as a natural medicine.
25,000 kg
Tank truck
900 kg
IBC
200 kg
Drum
27 kg
Canister
---
General durability: canister 12 months, drum 18 months, IBC 6 months
Nutritional values & composition
| | |
| --- | --- |
| Nutritional value | (per 100g) |
| Energy | 3,700 kJ / 900 kcal |
| Fat | 100 g |
| Saturated fatty acids | 9 g |
| Monounsaturated fatty acids | 80 g |
| Polyunsaturated fatty acids | 11 g |
Composition
| | |
| --- | --- |
| C16:0 Palmitic acid | 4 – 9 % |
| C18:1 Oleic acid | 66 – 83 % |
| C18:2 Linoleic acid | 6 – 25 % |
You want to buy Hazelnut oil?
Request now free of charge and without obligation from Gustav Heess. We deliver Hazelnut oil ...
We offer Hazelnut oil in the following packaging units:

Tank truck
25,000 kg

IBC
900 kg

Drum
200 kg

Canister
27 kg