Our Corn oil (maize oil) qualities
We carry Corn oil (maize oil) in the following qualities for you
| | Cosmetics | Food | Pharmaceutics |
| --- | --- | --- | --- |
| Corn oil pressed | | | |
| Corn oil (maize oil) refined solvent extracted Ph. Eur. | | | |
The clear, pale yellow to golden yellow oil with a faint smell and taste is used as an edible oil. In the food industry, corn oil is used for the production of foodstuffs (margarine, mayonnaise, dietetics, baby food), in cosmetics corn oil is also used for the production of soaps and hair care products. Corn oil is also used as a raw material for lubricants and leather care products in the technical industry.
INCI name: Zea Mays Oil
CAS number: 8001-30-7
Botanical name: Zea mays L.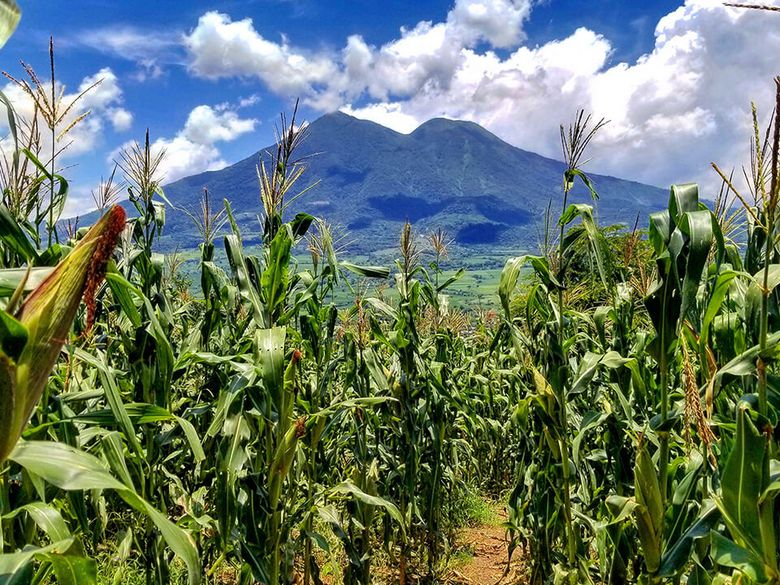 Corn plant & corn kernel
Corn oil is obtained from the seedlings of Zea mays L. (Gramineae) by pressing or extraction and is then refined.
Would you like to be informed about the general market situation of Corn oil (maize oil) and our other products?
subscribe to market report
Cultivation & yield
As an oil-supplying plant, maize is of secondary importance, although maize germ oil is a nutritionally valuable oil due to its palmitic and mainly high oleic and linoleic acid content. However, the linoleic acid content varies considerably depending on the region of cultivation. The oil (oil content of the seedling approx. 35 %) is obtained as a by-product of the processing of corn into maize starch. The crude oil is then refined; cold-pressed corn germ oil is rarely sold.
The largest corn producers are the USA, China and Brazil. Corn is one of the most traded grains after wheat.
The grain species maize has its origin between Mexico and Peru, but the actual wild form cannot be determined, since cultivated maize was selected from wild maize species very early. Remains of already domesticated wild maize forms have been found in caves in southern Mexico and dated to 5,000-3,400 BC. Corn also plays a role in Indian mythology and religion. Inhabitants of the Caribbean islands called it "mahiz", the Spanish adopted this name when they brought corn to Europe around 1,500. Corn was admired as a specialty but was not cultivated in Europe until the 17th century. It reached India and China via Italy, the Balkans and Russia. Since the Second World War, the plant, which is actually tropical and subtropical, has been cultivated worldwide. However, it is preferred as cattle feed, as a source of protein (polenta, tortillas, maize, popcorn) and starch (pudding, starch flour, fine pastries and as a thickener for soups and sauces as well as cornflakes).
25,000 kg
Tank truck
900 kg
IBC
190 kg
Drum
27 kg
Canister
---
General durability: canister 12 months, drum 18 months,IBC 6 months
Nutritional values & composition
| | |
| --- | --- |
| Nutritional value | (per 100 g) |
| Energy | 3700 kJ / 900 kcal |
| Fat | 100 g |
| Saturated fatty acids | 14 g |
| Monounsaturated fatty acids | 31 g |
| Polyunsaturated fatty acids | 55 g |
Composition
| | |
| --- | --- |
| C16:0 Palmitic acid | 9 – 15 % |
| C18:1 Oleic acid | 24 – 41 % |
| C18:2 Linoleic acid | 50 – 60 % |
You want to buy Corn oil (maize oil)?
Ask Gustav Heess now free of charge and without obligation. We deliver Corn oil (maize oil) ...
We offer Corn oil (maize oil) in the following packaging units:

Tank truck
25,000 kg

IBC
900 kg

Drum
190 kg

Canister
27 kg