Our Cocoa butter qualities
We carry Cocoa butter in the following qualities for you
| | Cosmetics | Food | Pharmaceutics |
| --- | --- | --- | --- |
| Cocoa butter natural | | | |
| Cocoa butter refined | | | |
| Organic cocoa butter deodorized | | | |
INCI name: Theobroma Cacao Seed Butter
CAS number: 84649-99-0 / 8002-31-1
Botanical name: Theobroma cacao L.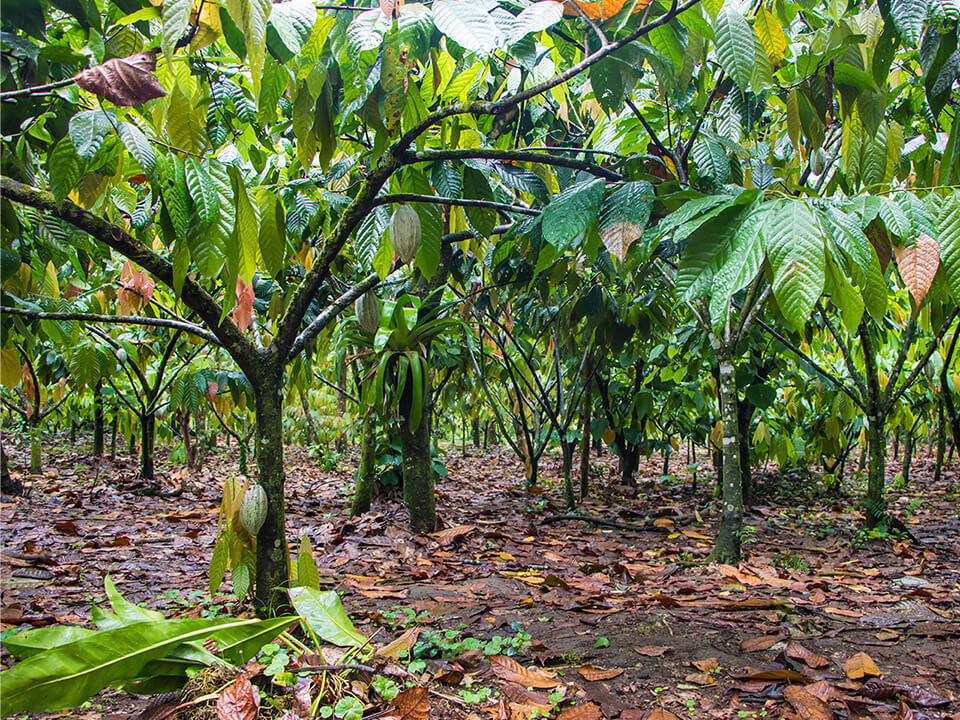 Cocoa tree & cocoa bean
Cocoa butter is obtained either by pressing cocoa beans or by pressing pre-roasted, ground and warmed liquid cocoa paste. Finally, cocoa butter obtained in this way is refined. Press residue is processed into cocoa powder and forms the raw ingredient for products such as chocolate.
The evergreen cacao tree grows to a height of up to 15 meters and can live up to 60 years. A cocoa bean is about two centimeters long, one centimeter wide and weighs about one gram.
The optimal climate for cocoa trees are temperatures between 25-28°C, 80% humidity, 1500-2000 millimeters/cubic meters of annual precipitation. In addition, the soil is rich in nutrients and permeable and the climate is shady and warm and humid.
Cultivation & yield
Today the cocoa tree grows within a 3,000 km wide belt along the equator. The main growing areas are Central and West Africa, Central and South America, Sri Lanka, Indonesia, New Guinea and the Philippines.
The home of the cacao tree is in the tropical rainforests along the Amazon and Orinoco rivers. From there it was cultivated by the Mayas, Olmecs and Aztecs and spread to Central America and later. After the conquest of these areas by the Spanish (Hernán Cortez first brought large quantities of cocoa beans to Europe around 1530), it was also spread to other regions of the world.
Cocoa beans had an enormous economic (means of payment; a rabbit cost 10 cocoa beans) and mythological significance for the Aztecs. This is documented in records of the Spanish conqueror of Mexico, Hernán Cortez. Thus, the state treasure of Montezuma II consisted of 25,000 quintals of cocoa beans (equivalent to about 1.25 billion beans; for comparison: a bar of chocolate contains about 35 beans).
25 kg
Bucket
25 kg
Box
---
General durability: bucket & box 12 months
Nutritional values & composition
| | |
| --- | --- |
| Nutritional value | (per 100 g) |
| Energy | 3700 kJ / 900 kcal |
| Fat | 100 g |
| Saturated fatty acids | 61 g |
| Monounsaturated fatty acids | 36 g |
| Polyunsaturated fatty acids | 3 g |
Composition
| | |
| --- | --- |
| C16:0 Palmitic acid | 21 – 29 % |
| C18:0 Stearic acid | 31 – 39 % |
| C18:1 Oleic acid | 30 – 38 % |
You want to buy Cocoa butter?
Ask Gustav Heess now free of charge and without obligation. We deliver Cocoa butter ...