Our Candelilla wax qualities
We carry Candelilla wax in the following qualities for you
| | Cosmetics | Food | Pharmaceutics |
| --- | --- | --- | --- |
| Candelilla wax refined in pastilles | | | |
Candelilla wax is often used as a substitute for bees or carnauba wax. In general, it is used, as in nature, to prevent dehydration. Candelilla wax is a superb oil binder and gives the products a beautiful shine, protects the ingredients and prevents them from sticking together.
INCI name: Candelilla Cera / Euphorbia Cerifera Cera
CAS number: 8006-44-8
Botanical name: Candelilla Cera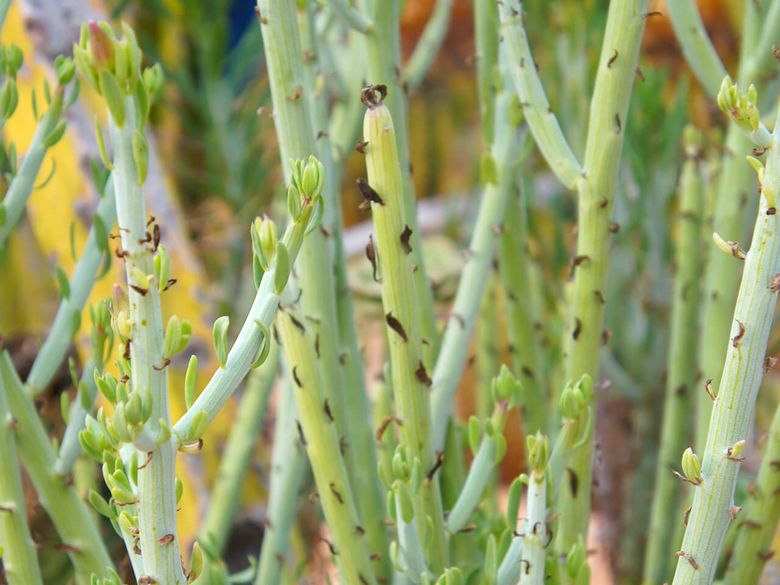 The candelilla bush
The candelilla bush (Euphorbia antisyphilitica) belongs to the spurge family. The bush consists of branching shrubs that grow up to 30 cm high. In order to protect itself from the heat, the plant forms a wax layer on branches as well as on the rare leaves, the candelilla wax (also called candellina wax). This is yellow to brown in colour and hard. It protects the shrub from environmental influences and evaporation. The entire plant is cut off at harvest and then completely boiled in water. The wax melts and rises to the water surface, from where it is skimmed off in the next step. It is then cleaned in several steps.
Would you like to be informed about the general market situation of Candelilla wax and our other products?
subscribe to market report
Cultivation & yield
The plant is native to the semi-deserts of northern Mexico and southern North America. Candelilla wax is collected and processed by small family businesses, the so-called "candelilleros". This is a wild growth.
The name Candelilla comes from the Spanish and means "small candle". The name aptly describes the upright growth and the flammability of the wax.
Approximately 4,000 years old rock paintings with colours consisting of a mixture of mineral pigments and candelilla wax were discovered on the border between Mexico and Texas.
Due to its price, the collection was stopped in the 1960s, but gradually gained popularity in cosmetics.
20 kg
Bag
---
General durability: 24 months
You want to buy Candelilla wax?
Request now free of charge and without obligation from Gustav Heess. We deliver Candelilla wax ...
We offer Candelilla wax in the following packaging units: