| | |
| --- | --- |
| Origin | Our sea buckthorn oil is obtained from selected sea buckthorn fruits from the EU, mainly from Germany. |
| Article number | 202020 |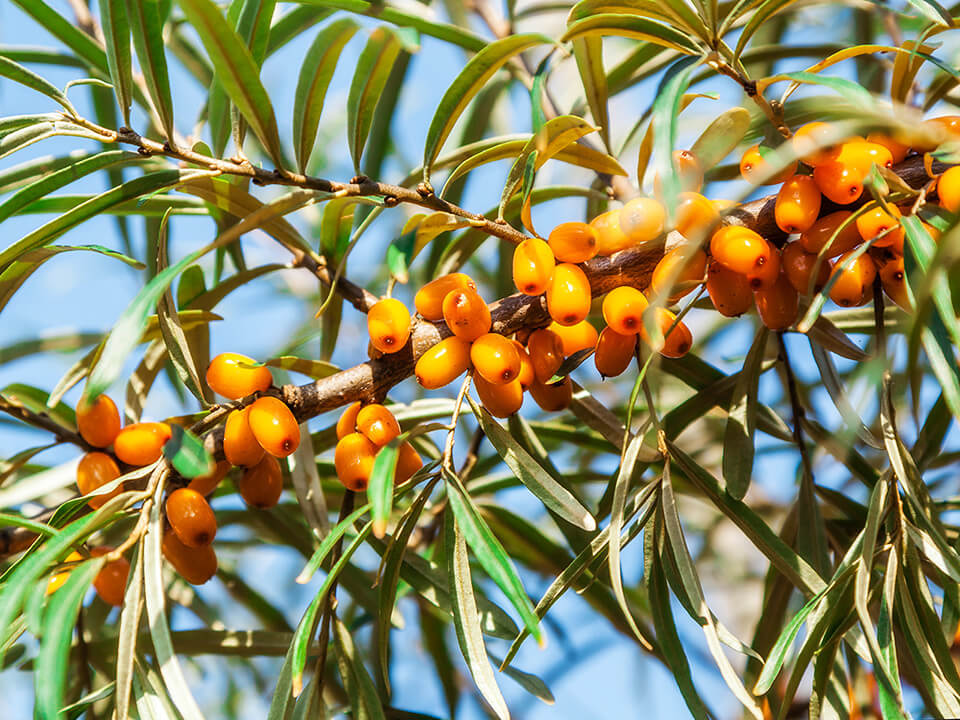 Sea buckthorn oil is obtained by a special solvent-free process from fresh or deep-frozen berries of sea buckthorn (Hippophae rhamnoides L.).
A orange to red oil with a characteristic fruity odour. The oil can be partially solidified at temperatures of 20°C.
Sea buckthorn oil virgin
Gustav Heess
Our sea buckthorn oil is of a particularly high quality and consists not of buckthorn oil seed oil, but of valuable pulp oil. Thus, the valuable ingredients are preserved at their best. Our sea buckthorn oil comes from German production. Most of the fruits of our sea buckthorn oil are also grown in Germany. These come mainly from Brandenburg, Mecklenburg-Vorpommern and Sachsen-Anhalt and are obtained by harvesting whole branches and then freezing them. In order to allow the sea buckthorn bush to recover, it is only harvested every two years. The harvest free year gives the sea buckthorn strength and is also a source of food for birds in winter.
Our sea buckthorn oil is of particularly high quality, as it is obtained 100% solvent-free and gently by centrifugation.
Cosmetics

Sea buckthorn has many uses in cosmetics
pampers the skin and has an anti-inflammatory effect
Sea buckthorn oil supports the regeneration of skin cells
Sea buckthorn oil is often used in face cream, body lotion or bath oil
the rich oil is often used in production for skin care and sun protection
Sea buckthorn oil is very suitable for dry, rough and scaly skin
Sea buckthorn oil contains more antioxidants and palmitoleic acid than the other oils
The palmitoleic acid contained can be absorbed very well by the skin
Is used in natural cosmetics for the production of creams, massage oils, shampoos or shower gels
Sea buckthorn oil is said to reduce wrinkling and is therefore very popular in the field of anti-aging
Cosmetic products with sea buckthorn oil protect against free radicals.

Food

sea buckthorn also offers an abundance of E and A vitamins and is therefore mainly used as a food supplement
INCI name: Hippophae Rhamnoides Oil
CAS number: 225234-03-7 / 90106-68-6
Botanical name: Hippophae rhamnoides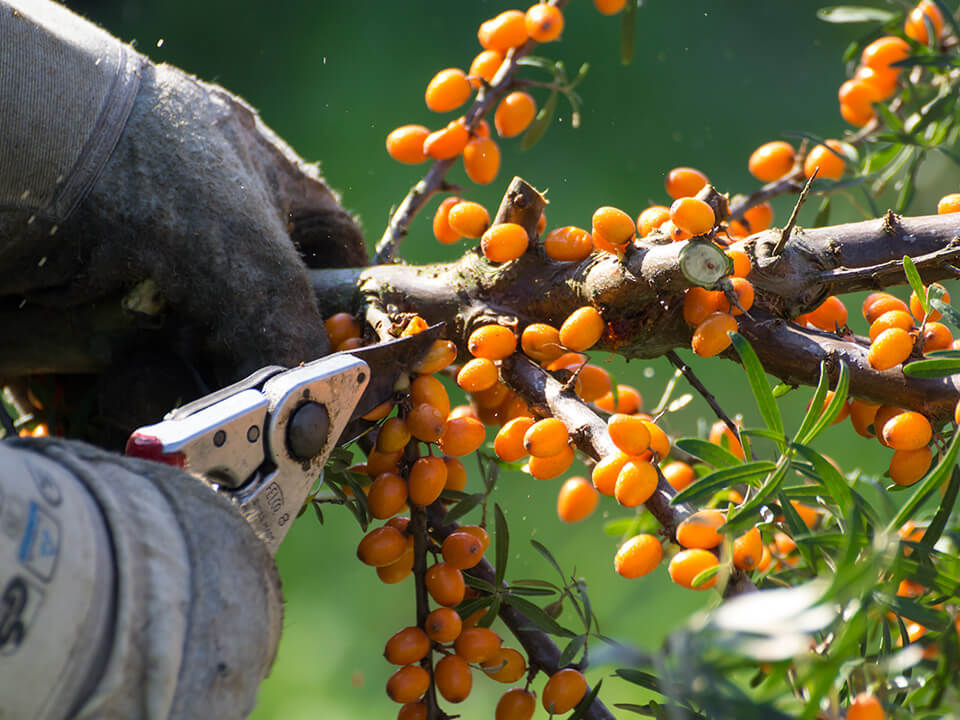 Sustainability & responsibility
We obtain sea buckthorn mainly from Germany (Brandenburg, Mecklenburg-Vorpommern and Sachsen-Anhalt). Due to short transport distances we save CO2 during production.
For harvesting the sea buckthorn fruit we mainly focus on the gentle harvesting of whole branches. This increases the quality of the fruit and at the same time the sea buckthorn is only harvested every 2 - 3 years. During this resting period, the sea buckthorn is a good source of food for birds in winter. In every growing area there is sea buckthorn in the dormancy period and therefore it is permanently available to birds as a source of food in winter.
190 kg
Drum
30 kg
Canister
10 kg
Canister
---
General durability: canister 12 months, drum 18 months
Nutritional values & composition
| | |
| --- | --- |
| Nutritional value | (per 100 g) |
| Energy | 3700 kJ / 900 kcal |
| Fat | 100 g |
| Saturated fatty acids | 35 g |
| Monounsaturated fatty acids | 60 g |
| Polyunsaturated fatty acids | 5 g |
Composition
| | |
| --- | --- |
| C16:0 Palmitic acid | 25 – 45 % |
| C16:1 Palmitoleic acid | min. 20 % |
| C18:1 Oleic acid | 15 – 35 % |
You want to buy Sea buckthorn oil?
Ask Gustav Heess now free of charge and without obligation. We deliver Sea buckthorn oil ...
We offer Sea buckthorn oil in the following packaging units:

Drum
190 kg

Canister
30 kg

Canister
10 kg
More Sea buckthorn oil-qualities
Here you will find more information about Sea buckthorn oil &