Our Shea butter qualities
We carry Shea butter in the following qualities for you
| | Cosmetics | Food | Pharmaceutics |
| --- | --- | --- | --- |
| Shea butter pressed and refined for food | | | |
| Shea butter pressed and refined | | | |
| Shea butter refined melting point 43°C | | | |
| Shea olein refined | | | |
| Organic shea butter refined for food | | | |
| Organic shea butter refined | | | |
| Organic shea butter refined UEBT | | | |
| Organic shea butter natural UEBT | | | |
INCI name: Butyrospermum Parkii Butter
CAS number: 194043-92-0 / 91080-23-8
Botanical name: Vitellaria paradoxa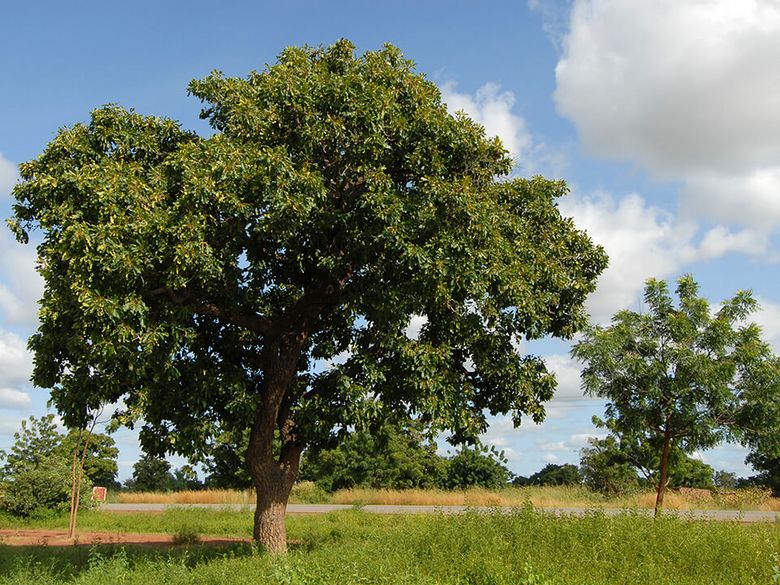 Shea tree & shea nut
Shea butter is obtained from the crushed kernels (seeds) of the shea nut tree (Butyrospermum parkii) by pressing and then refined. Raw materials are not traded.
The up to 10-20 m high, gnarled shea nut tree, which grows wild in the tropics, is of local importance as a supplier of fat. It is also known as the shea tree, shea butter tree or African butter tree. The ovary of the shea tree contains yellow to greenish berries of the size of an apricot with a chestnut-sized, 4 cm wide seed (kernel).
While birds, elephants and humans like to eat the berries, shea butter is obtained by pressing of the kernels (oil content 34-57%). The shea tree has not yet been cultivated on plantations, as it is only fertile after about 25 years. A shea tree can live for over 200 years and is part of the natural environment in the West African bush.
Cultivation & yield
The shea tree grows exclusively in West and East Africa, deposits on other continents are not yet known. In the West African Sahel zone with its typical dark red soil and lush green trees, the shea season begins with the rainy season in May-April. Between Sahara and wet savannah on an area of almost 3 million square kilometers, the so-called shea belt, the shea fruits ripen on more than 800 million wild shea trees. In the Sahel zone, about 10 million female collectors live on the shea harvest. The shea fruits are mainly collected wild by women in the bush. Traditionally, the harvest season is started with a festival.
The Food and Agriculture Organization of the United Nations (FAO) has estimated a harvest of about 550,000 tons of shea nuts per year.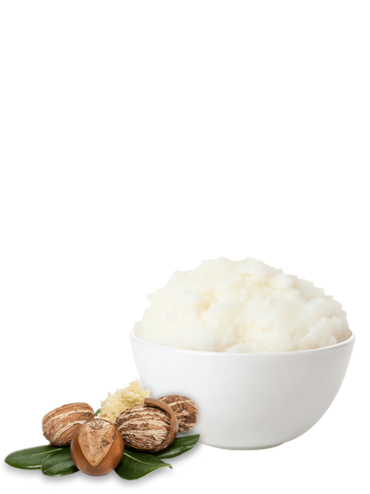 The shea fruit has always been used by the locals. The pulp with the sweetish taste was used as food, the oil was used for external application due to its moisturizing effect.
180 kg
Drum
25 kg
Bucket
25 kg
Box
---
General durability: bucket & box 12 months, drum 18 months
Nutritional values & composition
| | |
| --- | --- |
| Nutritional value | (per 100 g) |
| Energy | 3700 kJ / 900 kcal |
| Fat | 100 g |
| Saturated fatty acids | 48 g |
| Monounsaturated fatty acids | 46 g |
| Polyunsaturated fatty acids | 6 g |
Composition
| | |
| --- | --- |
| C16:0 Palmitic acid | 3 – 9 % |
| C18:0 Stearic acid | 32 – 50 % |
| C18:1 Oleic acid | 40 – 57 % |
You want to buy Shea butter?
Ask Gustav Heess now free of charge and without obligation. We deliver Shea butter ...
We offer Shea butter in the following packaging units:

Drum
180 kg

Bucket
25 kg

Box
25 kg